So you thought this demonetization scheme was only to curb black money and corruption? Then, you have no idea how this scheme is going to change India forever.
 Please note that the information that I am going to provide in this blog is highly confidential. Read at your own risk.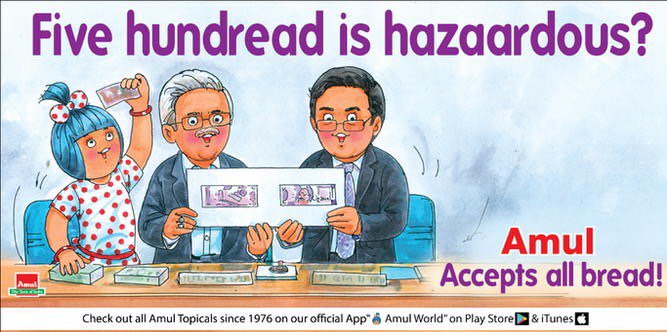 Below are some of the hidden benefits and the real reasons for banning the old notes and replacing them with new ones.
1. Respect for Color Pink
Black had class, red resembled love, blue was the sky, grey had 50 shades and we all talked about going green. But what did pink represent? A section of society which are always dis-respected and considered second class citizens.  Today, with the new 
Rs.2000
 note, pink represents power. The biggest of the politicians, bureaucrats and businessmen want only this colour. Pink is the new status symbol. Mahatma Gandhi, the face of this revolution, had once said "
Recall the face of the poorest and weakest man you have seen, and ask yourself if this step you contemplate is going to be any use to him.
" This one decision of the government has changed the fortune of this weakest of all colours. A master stroke, ain't it?
2. A lesson to Stand in a Queue
The biggest hurdle that Mukesh Ambani faced during the launch of Jio SIM was that people were not ready to stand in a Queue to wait for their turn. And hence, this note ban decision was taken. Keep your hands on your heart and answer honestly- Before 8th November, did you ever thought that Indians could standi in a queue. 50 days have changed it all.
3. Fostering Creative Writing
No government in the past has given so much emphasize on creative writing than this one. In these last 50 days, everyday RBI officials had to use their creative skills to write a new circular. And what an amazing job they have done. No wonder Chetan Bhagat must be feeling threatened.
4. Promoting Cleanliness
We all know how serious this government is with their Swachh Bharat Mission. Despite spending crores, they were not getting the desired results. But this move, changed it all. All that was required was to put some notes in garbage. Within few hours, all the garbage across the country was cleaned up in anticipation of finding more notes. Similarly, few notes were thrown in river and people themselves jumped and cleaned all rivers.
5. Freedom of Speech
No matter how much we criticize this government on curbing freedom of speech, but this one decision has made even the most silent person in whole of India to speak up. Those who already used to speak, whether they are from Delhi or Bengal, are now speaking louder. Even the person who is made fun of across social media, is on daily basis speaking and even reciting poems. Still, you feel that this government is against freedom of speech?
 6. Boon to Economy
False are all those claims that the economy has gone down. You take out the sales records of any jeweler, and you will realize what a boost this note ban decision has given to businesses. And you know, what's the best part? All the purchasers are from the middle class, purchasing less than Rs. 1 lakh gold.
 7. Promoting a Healthy India
Government and RBI could have easily kept the dimensions of new notes same as previous one and avoided recalibration of ATM machines. But they choose a sleek design, so that they could inspire whole of India to focus on their health and shed those extra kilos. Some fitness centers are planning to use the images of old and new notes, in their before and after photo.
 8. Permanent Seat in UN's Security Council
The biggest hurdle in India's claim to a permanent Security Council seat is China. However, by taking such a huge step to benefit a digital company backed by a Chinese investor, despite a huge campaign to boycott China, India has put tremendous pressure on Chinese government. It can now be expected that China as a barter would have to favour India for a permanent seat in Security Council.
 9. Making People Realize the Evils of Female Foeticide
Note Ban was a lesson for all those who killed their daughters in the foetus stage. After 8th November, they realized the value of that foetus. Had they not killed her, they could have easily converted another 2.5 lakhs into white by depositing in her account.
 10. Keeping the Family Bond Tight
Diwali had already passed in October and new year was still two months away. Do you realize how quiet would all those family whatsapp groups had become, had it not been note ban. Throughout these 50 days, it was like a festival. From morning till late night, there were messages, jokes and rumors on these groups. Had it not been demonetization, people would have never realized that they have got such a huge family. Note ban, kept the family connected in this lean period of forwarded messages between Diwali and New Year.
 STILL YOU BELIEVE NOTE BAN WAS A BAD MOVE?